BREAKFAST FOR ALL HOTEL GUESTS
Weekdays from 6.00-10.00 AM
Weekend & holidays from 7.30-10.00 AM
All hotel guests can enjoy a delicious breakfast and freshly brewed coffee.
The lunch and evening restaurant at DET GAMLE RÅDHUS is temporarily closed.
We will announce its reopening as soon as it is possible.
THE RESTAURANT AT DET GAMLE RÅDHUS
Traditional, old-fashioned Danish cuisine
We look forward to giving you a warm welcome and hope you will feel as if you are stepping back in time.
The restaurant at DET GAMLE RÅDHUS will treat you to a selection of traditional, old-fashioned Danish cuisine. We prepare the meals from scratch using seasonal ingredients, using traditional culinary expertise that has stood the test of time.
We use local, seasonal and organic ingredients whenever we can. Our chefs serve well-prepared meals throughout the day, seven days a week, and prepare bespoke menus for our many parties and events.

Children under 13 can enjoy our buffets for half price. Do not emply to breakfast.
We serve breakfast on weekdays from 7 am to 10 am
Price per person DKK 100,-
We serve a large and delicious brunch on Saturdays and Sundays from 10 am to 1 pm
Price per person DKK 179,-
(Brunch in separate room is priced DKK 249,- per person)
Bookings are recommended
The lunch buffet always offers a delicious salad bar and at least 1 vegetarian dish. Furthermore: You're always welcome to ask the waiter for today's options in the restaurant or contact us at info@graastenraadhus.dk or +45 7465 1200.
Everyday from 11 am to 2 pm
We offer Mayor Burger, Traditional Danish "Stjerneskud", DET GAMLE RÅDHUS Stew and many other dishes.
Lunch plate with cold cuts, herring, fish, starter of the day, 1 warm dish, cheese and sweets DKK 149,-
DET GAMLE RÅDHUS Stew with pork tenderloin, sausages, bacon, rice, french fries, mixed salad and dressing DKK 135,-
Mayor Burger with BBQ sauce stirred beef, tomatoes, red onion, salad, cheese, cucumber salad, dressing, french fries with dip DKK 129,-
Bacon + DKK 10,-
Traditional Danish "Stjerneskud"  DKK 129,-
Salad buffet / as main course DKK 89,-
Cheese plate with delicious accompaniments DKK 85,-
Gateau Marcel with vanilla ice cream and fruit DKK 75,-
Coupe Denmark a classic; vanilla ice cream with chocolate sauce DKK 75,-
Every friday from 11 am to 1.30 pm 
Herring with accompaniments
Today's starter
Cold cuts and cheese with accompaniments
Warm meals
Salad table with dressing and toppings
A little for the sweet tooth
The baker's best bread with butter and fat
Price per person DKK 149,-
SMØRREBRØD – A DANISH SPECIALITY
The world-famous Smørrebrød is a Danish speciality. The Smørrebrød is an open-faced sandwich with bread and a variety of delicious toppings, and is one of the highlights of classic Danish cuisine. Most toppings are served on dark rye bread; other toppings, such as shrimps and smoked salmon, are served on white bread.
Served Monday to Saturday from 11 am to 2 pm.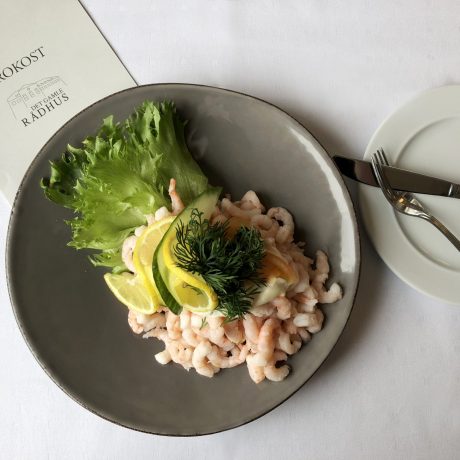 shrimp on white bread with lemon
and mayonnaise.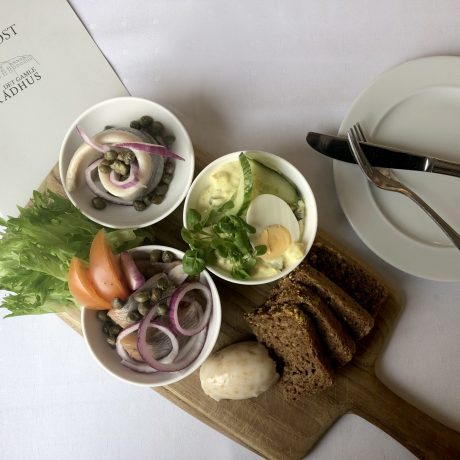 rye bread, with curry salad, greaves and butter.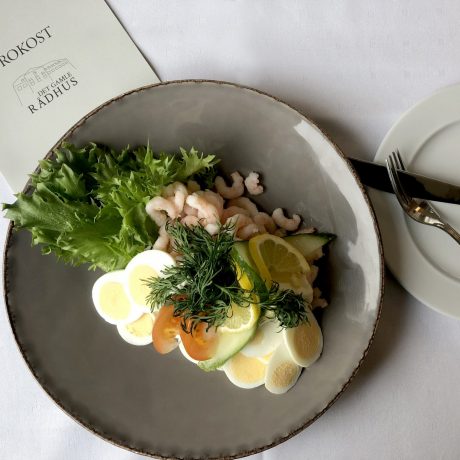 egg and shrimp on rye bread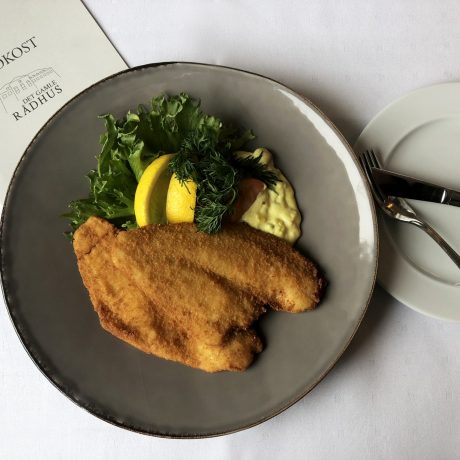 fish fillet with remoulade and lemon
on rye bread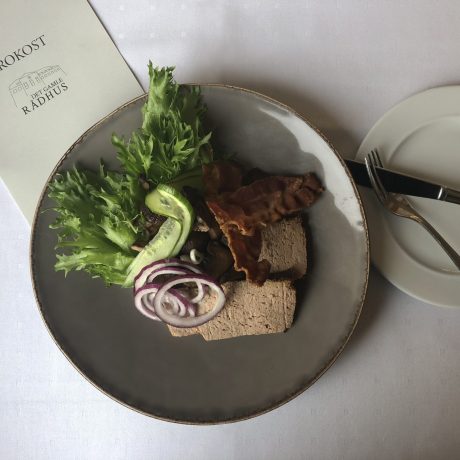 with bacon and mushroom
on rye bread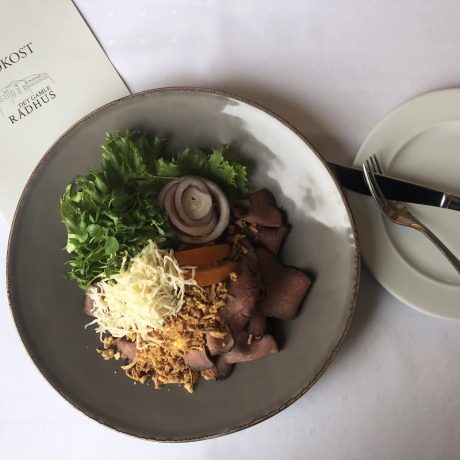 Roast beef served with remoulade, horseradish and fried onions.
Served on rye bread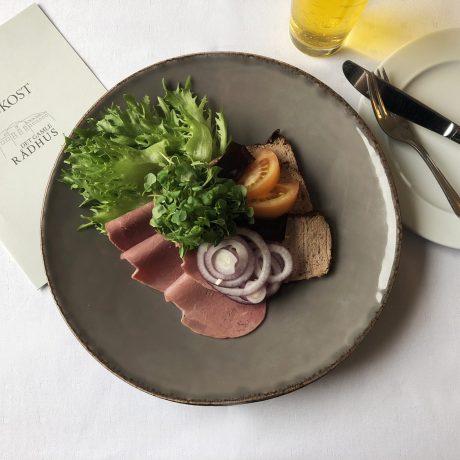 liver paste and salt meat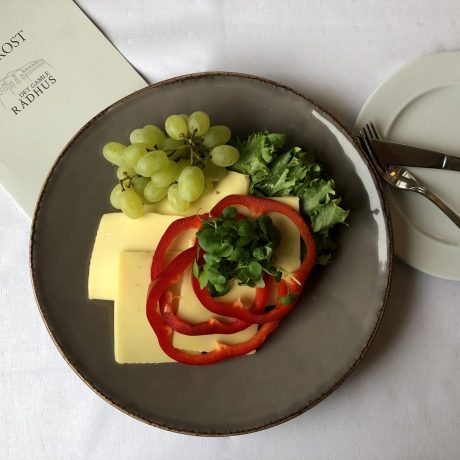 Monday – Saturday  from 5.30 pm to 8.30 pm
We offer Als schnitzel, Roast veal, fish of the day and many other dishes.
Shrimp cocktail DKK 75,-
Classic onion soup with cheese bread DKK 75,–
Salmon served in 3 ways; homemade gravlax with mustard dressing, tatar and fried served with cucumber cream DKK 75,-
Smoked pork tenderloin on apple-lemon salad with terragon cream DKK 75,-
All starters are served with bread, butter and tapenade
Als schnitzel with crispy bacon, sausages, vegetables, french fries and paprika sauce DKK 175,-
DET GAMLE RÅDHUS Stew with pork tenderloin, sausages, bacon, rice, french fries, mixed salad and dressing DKK 135,-
Mayor Burger with BBQ sauce stirred beef, tomatoes, red onion, salad, cheese, cucumber salad, dressing, french fries with dip DKK 129,-
Bacon + DKK 10,-
Roast veal with pesto, smoked ham, vegetables, potatoes and red wine sauce DKK 175,-
Chicken- as we make it in Gråsten with greens, root vegetables, and sauce DKK 175,-
Fish of the day with the chef's choice of accompaniment  DKK 185,-
Traditional Danish "Stjerneskud"  DKK 129,-

Cheese plate with delicious accompaniment DKK 75,-
Pancakes with fruit and ice cream DKK 75,-
Gateau Marcel with ice cream and fruit DKK 75,-
Coupe Denmark a classic; vanilla ice cream with chocolate sauce DKK 75,-
Choose 1 main course and 1 dessert:
Sausages with french fries
Meatballs with greens, potatoes and gravy
Chicken with vegetables, pasta and cream sauce
***
Vanilla ice cream with chocolate sauce
Pancakes with ice cream
Cake of the day with ice cream

2 courses – per person DKK 99,-
Tea DKK 30,-
Espresso DKK 25/30,-
Café cream DKK 30,-
Cappucino DKK 35,-
Latte macchiato DKK 35,-
Café latte DKK 35,-
Espresso macchiato DKK 30,-
Chocciato DKK 35,-
Hot chocolate with whipped cream or marshmallows DKK 40,-
Chai latte – vanilla DKK 35,-
Syrup shot – vanilla/caramel/salt caramel DKK 5,-
Ryesminde must 25 cl., blackcurrant – elder flower – rhubarb – apple DKK 30,-
Draught beer from Fuglsang kr. 30/45,-
Bottle of beer from Kronenbourg Blanc or Heineken DKK 45,-
Gin/tonic – rum/cola – vodka/juice – Irish coffee. Pr. pcs. DKK 55,- 2 for DKK 100,-
Pastry cake of the day, different kinds DKK 38,-
Apple cake with macaroons, apple porridge and whipped cream DKK 38,-
3 pieces of marzipan ring cake DKK 36,-
Filled chocolate pieces: 3 pcs. DKK 36,- /6 pcs. DKK 60,- /9 pcs. DKK 90,-
2 half buns with butter DKK 22,-
2 half buns with cheese DKK 40,-
"It's a place to be seen and experienced – a place to remember."
Guest at DET GAMLE RÅDHUS